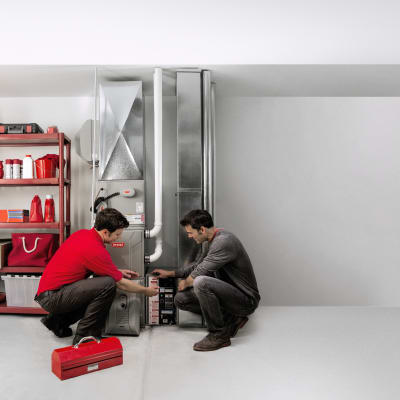 IT TAKES
A Strong Foundation
Bryant Delivers Over a Century of Experience
Since 1904, Bryant has built a reputation for going above and beyond to give you the home comfort you deserve. Our dealers deliver home comfort by installing quality products you can rely on and service you can trust. Online, we know homeowners want to make informed decisions, so we provide you with information: FAQs, our heating and cooling glossary, blog and media center are all here to help you.
History
At Bryant, we live and breathe our motto: Whatever It Takes®. Along with our nationwide network of experienced and trained dealers, we have been working hard within your local community to deliver quality you can rely on for over a century. Discover our story.
Media Center
For over 100 years, people have trusted their indoor comfort needs to Bryant because of our dedication to customer satisfaction. Our distributors, dealers, and countless employees are proud to serve you and their local communities. Read our press releases and see videos to learn more.
Glossary
It takes knowing the lingo to better understand how your Bryant products work. This glossary provides a plethora of heating and cooling definitions to help you. If it's not in here, a Bryant® dealer can answer any other questions you might have.
FAQ
Have a heating and cooling question? Chances are your question is more common than you think. We've compiled a list of Frequently Asked Questions that you can check before you call your Bryant® dealer for help.
Heating & Cooling Topics
Getting the right Bryant system for your family depends on several factors, including the unique specifications of your home. Dependable Bryant dealers can help you make the best choice, and you can learn more about our heating and cooling systems here.